Storm Damage
---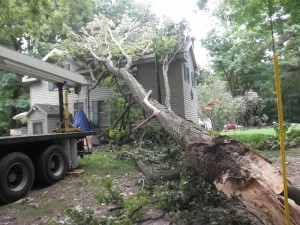 Northern Indiana endures its share of inclement weather which sometimes leads to the need for Emergency Tree Care.
Storms can cause tree limbs to fail and entire trees to fall, damaging property and blocking access to homes, driveways and streets.
Your telephone call will be returned in a prompt manner to discuss the situation.  If warranted, a  arborist will come out to assess and recommend an appropriate course of action.
Contact Green Leaves Tree Service today at 219-877-8263